Obituary for Izzy Shelton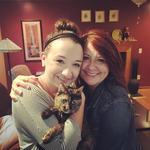 Elizabeth "Izzy" Shelton

June 16, 2001 - January 6, 2016

Elizabeth came to us as a kitten on September 10, 2001. She was chosen by Madeline, 7 years old at the time, who named her. Nicknamed "Izzy," she was a tiny asthmatic who was allergic to everything! Madeline adored Izzy whose overzealous affection often caused her to sleep in the basement so she wouldn't spend the night touching Madeline's face with her paws and affectionately biting her nose.

Izzy was the sweetest cat I have ever had the pleasure of living with. She was a steadfast nurse if you were sick, a confidante if you were sad, and a companion for TV watching, book reading, or sitting by the fire. She was so lovable that her family tolerated years of counter top walking, food stealing, and rug peeing. It didn't matter. When you spoke to Izzy, she would look you in the eye and engage fully with a repertoire of facial expressions like no other cat. She was always purring--loudly.

Izzy loved to use her paws and would often sit on her haunches and clap for treats, or catch dust in the sunlight. If you asked nicely, she'd sit up and clap just to see you.

Most important of all, when Madeline grew up and moved out, she moved in to our room, sleeping next to my head and waking with the affectionate nips and paw touches that were once a nuisance to her young owner. She helped me transition to my emptying nest. I grew to not only appreciate her constancy, but to look forward to it as a welcome start to my day.

Izzy struggled with her asthma and her allergies and several bouts of illness that seemed like the end. She truly had 10 lives in her. Just one year ago, she was struck with such a grievous illness that we all thought it was truly the end. But she bounced back to give us a whole year before succumbing to the disease which weakened her heart and her tiny body. I am so grateful for that year--and for her last day when she still had the strength to jump in my bed and kiss me good morning.

Izzy, you are deeply loved and sorely missed.